| | |
| --- | --- |
| | |
YOUNG - MURKOWSKI CARA WILL FUND SKYROCKETING LWCF LAND PURCHASES IN ALASKA
Revised June 15, 2000 by American Land Rights Association
Land and Water Conservation Fund Federal land purchases in the State of Alaska from 1971 to 1999. Projections of LWCF Federal funding and LWCF state grant and required state matching funding under Title II of CARA are shown to 2015.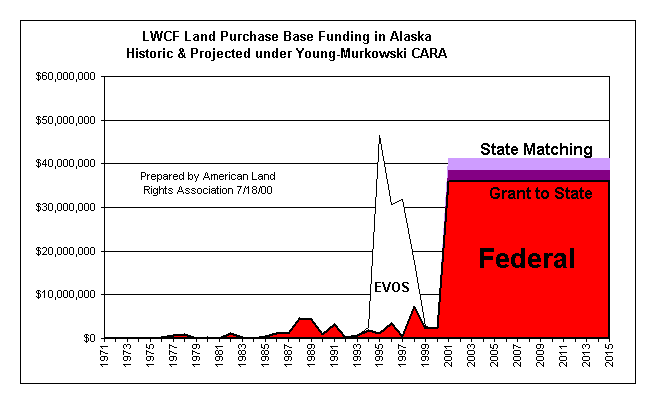 NOTE: Exxon Valdez Oil Spill (EVOS) trust land purchases were made by the USFWS and NPS as follows: 1994 $0.7 million; 1995 $45.5 million; 1996 $27.3 million; 1997 $31.4 million; 1998 $10.2 million; 1999 $0.5 million. These were not through the LWCF and are not CARA related.

Sen. Murkowski vigorously and continually objected to these land acquisitions. Rep. Young also said he disagreed with the purchases.

With CARA, Young and Murkowski are base funding government land acquisition far worse then the EVOS purchases! WHY SHOULD THERE EVER BE EVEN ONE MORE ACRE OF GOVERNMENT LAND IN ALASKA!!

GOVERNMENT LAND OWNERSHIP IN ALASKA
Be informed! Don't allow yourself to be snowed by CARA.
For More Information Contact:
American Land Rights Association
Tel: 360-687-3087
FAX: 360-687-2973
[_private/navbar.htm]
Send mail to alra@pacifier.com with questions or comments about this web site.
All pages on this website are ©1999-2001, American Land Rights Association. Permission is granted to use any and all information herein, as long as credit is given to ALRA.