WHO IS RESPONSIBLE FOR THESE MAMMOTH NEW SLASHES IN PREVIOUSLY UNDISTURBED NATURAL VEGETATION IN THE MCCARTHY CREEK VALLEY?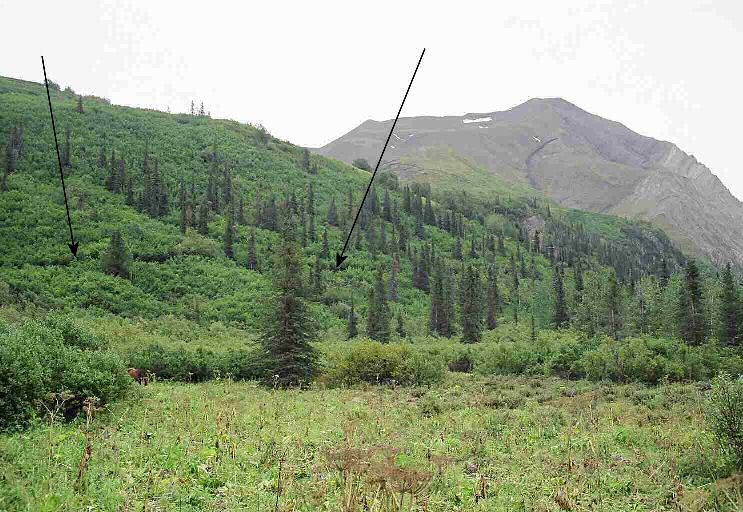 SURPRISE! IT'S NOT THE PILGRIMS BUT:
THE NATIONAL PARK SERVICE!
Arrows point to the clearing slashes along the Pilgrims property line resulting from the unnecessary and costly gold-plated retracement survey ordered by the NPS. This created over two miles of highly visible, artificially straight lines across the landscape of the McCarthy Creek valley natural vegetation -- Most probably more then anyone has done for over fifty years in this valley! And the NPS caused these gouges. WERE TALKING SOMETHING REALLY FRESH AND BIG: TWO ONE MILE LONG ABSOLUTELY STRAIGHT LINES. At least the old mining roads generally meander back and forth in a much less obtrusive way. NEW: AIR PHOTOS OF SLASHES.
The Pilgrims took their dozer in over an existing road which was already there and has been a visible part of the landscape for 100 years! They didn't create it.
WHY DID THE NPS MANAGERS ORDER THESE SLASHES? If the reported cost of $70,000* is correct, the extreme expense for this super accurate survey was hardly needed. This is not in the middle of a subdivision.
The NPS is nationally and locally known for the technical achievements of its in-house Geographic Information System personnel who have the latest computer capabilities. They could easily have prepared airphoto-based plats showing where those lines were located well enough for NPS management purposes in a remote area like this! BLM's excellent survey team could have recovered a few key corners and provided NPS-GIS with the information to prepare the maps at one tenth the cost. Why the gross overkill and expense to the taxpayer to say nothing of the disruption to the landscape of the area? $60,000 wasted!
We wonder why the teams of scientists have spent no time whatever cataloging, photographing, counting the intrusive NPS disturbances of natural vegetation around the Pilgrims property. Why rather do they spend all their time trying to discredit and harass the Pilgrims merely for trimming regrowth along meandering roads?
The 2003 NPS field campaign against the Pilgrim family has caused FAR FAR MORE visible impact on undisturbed natural vegetation in the McCarthy Creek valley than anything they are trying to hang the Pilgrims with doing on the EXISTING 100 year old road.
SEE AERIAL PHOTOS OF THE SLASHES
* Contract with BLM was for $23,400 but this did not include helicopters, lodging, and NPS overhead costs, armed rangers, back office planning and support etc. etc.
Return to National Park Service WAR IN THE WRANGELLS
For More Information Contact:
American Land Rights Association
Tel: 360-687-3087
FAX: 360-687-2973
[_private/navbar.htm]
Send mail to alra@pacifier.com with questions or comments about this web site.
All pages on this website are ©1999-2001, American Land Rights Association. Permission is granted to use any and all information herein, as long as credit is given to ALRA.