PURPOSE AND MISSION STATEMENT
To protect private property ownership and access rights and to defend and advocate access to, and multiple uses of, public land and waters in Alaska for recreation, transportation and economic livelihoods consistent with defensible land management principles.
RESOURCES
--- ALASKA LAND ISSUES MEDIA AND RESOURCE LOG
--- AMERICAN LAND RIGHTS ASSOCIATION website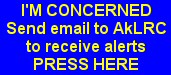 FRIENDS: Alaska Outdoor Council Alaska Forest Association Alaska Miners Association Alaska State Snowmobile Association American Lands Council Kantishna Inholders Association Mat-Su Property Owners Association Residents of the Wrangells Resource Development Council
---
Please send comments or questions to:

Alaska Land Rights Coalition, 201 Barrow Street #11, Anchorage Alaska 99501-2429. Paula Easley, Chair, paulaeasley@yahoo.com (907) 274-6800 ; Ray Kreig, Vice Chair, ray@kreig.com (907) 276-2025.